RockAndBluesMuse.com ///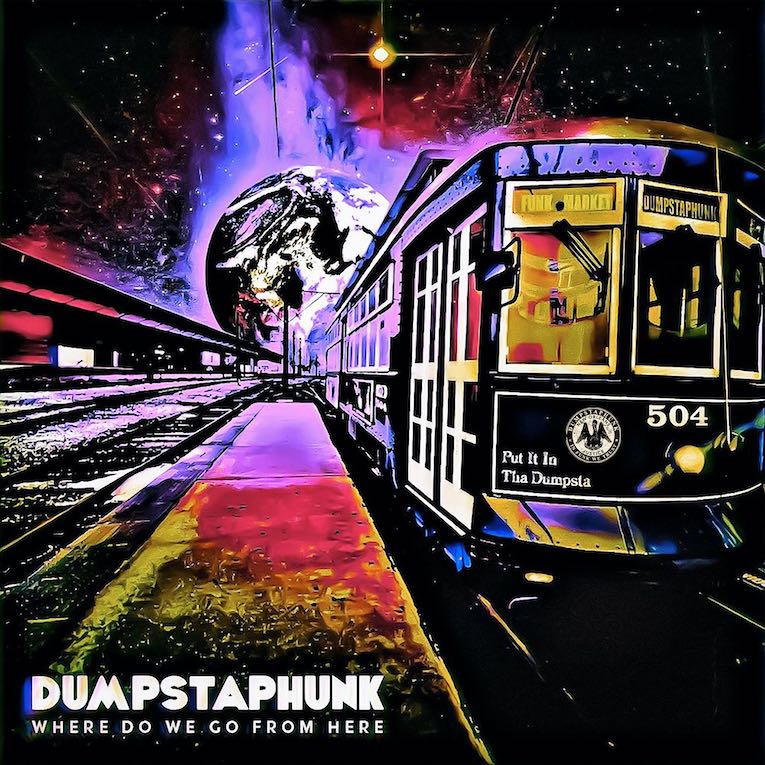 By Martine Ehrenclou
New Orleans funk-fusion powerhouse band Dumpstaphunk releases Where Do We Go From Here on April 23, 2021 via Mascot Label Group/Funk Garage. The album is the band's fourth studio release and their first full length record since Dirty Word (2013), featuring guests Marcus King, Trombone Shorty, Chali 2na and Erica Falls.
Founding members of the band, Ivan Neville, Ian Neville, Tony Hall and Nick Daniels, along with Alex Wasily, Ryan Nyther and drummer Devin Trusclair, have built upon their family's iconic NOLA legacy as they've transformed Dumpstaphunk into the city's pre-eminent 21st-century funk-fusion export.
Modernizing and reinterpreting the Neville/Meters family groove has been one of the driving forces of Dumpstaphunk since they formed during New Orleans Jazz & Heritage Festival 2003.
Where Do We Go From Here blasts off with "United Nations Stomp," the Buddy Miles cover with this outstanding band's own inimitable stamp. With sizzling guitars, thundering drums and a killer groove, this is feel good music that focuses on spreading joy with the kind of rhythm and melody that draws you out of your seat and onto the dance floor.
But there's more to this band and the song than just superb musicianship and a feel for danceable rhythms. The opening track sets the tone for an album that's a mix of New Orleans funk, old school R&B, and guitar-fueled modern rock. With Marcus King serving up a scintillating and superb guitar solo, this song is not just a blues anthem for the importance of love, good vibes and peace for our world, but a statement that's as pertinent today as it was in the early 70s when Miles released it. The track was mixed by Beastie Boys' producer Mario Caldato Jr., and also features guitar legend Waddy Wachtel.
Ivan Neville says, "We hope people can hear the new songs and are inclined to dance and inspired to think at the same time."
With a tight horn section, "Make It After All" is an ode to slap bass and modern funky rhythm. The band simply roars into this tune with a full-fledged sound that's all their own, a power punch of exquisite musicians who have a tight grip on rhythm and intuitive playing. Ivan Neville's powerful voice rides the groove with lyrics about being too strong to fall even if bad decisions are made. With a guttural "Yeeaaah!" he makes you believe that he's standing tall and unwilling to be put down. Pay attention to the bass and piano solos—-so full of soul and feeling, not to mention superb skill. Inventive riffs and melodies with jazzy overtones make this a tight-fisted jam of expertly crafted music with powerhouse bass, drums, organ, guitar, horns and vocals. Enough to buy the album right there.
A divine, funky instrumental "Backwash" lays back with the groove. The horns punch through the bass hook, rhythm guitar, and organ/keys like a well-oiled machine, tight and together. Another mind-blowing song. To see Dumpstaphunk live would be an experience, worth a long drive or flight just to get to where they are performing.
Slowing things down a bit, the album's title track, "Where Do We Go From Here" was released to commemorate the 15th anniversary of Hurricane Katrina. With a syncopated beat, the track kicks off with the killer horn section and organ fills and a delightful back beat. Ivan Neville sings about dealing with life's challenges and no guarantees. The lyrics focus on that it all comes down to love, a theme for Dumpstaphunk's album.
The album closer "Justice" features Chali 2na and Trombone Shorty. More rock influenced funk goodness with a potent message about justice for all, that we are all the same regardless of our appearance. Not unlike The Roots, this song has an avant garde feel riding the hard-hitting groove. As only as Trombone Shorty can do, his horn fills and solo are incredible.
With lyrics like, "We're looking for truth to save our youth," the track is a call to arms to shun racism, police brutality, and to change laws. Amen.
Watch "United Nations Stomp"
Pre-order link for Where Do We Go From Here by Dumpstaphunk
Dumpstaphunk